10 Essential Tips for Taking Out Your First Loan for School
Did you know the average annual tuition to attend college in the U.S. is $34,740 for a private school, and $9,970 for a public school? Add in room and board, books, and transportation and that's a whole bunch of cash!
A majority of college students graduate with at least some debt, and the average debt in 2017 was nearly $38,000. Almost all students who apply for college financial aid have a student loan in their financial aid letter.
Debt can add up quickly if you're not careful. Get the information you need and make wise decisions about borrowing.
Read on for 10 essential tips for taking out your first loan.
1. Get Educated
Your school will require an information session and document review before the disbursement of your first loan. During that session, they'll go over your financial aid package and repayment terms. Before you even get there, know the lingo.
You will see lots of unfamiliar terms. Get to know your interest rate and any fees. Note how long you will have to repay the loan and the amount of the payments.
2. Exhaust Your Other Options
You probably filled out a Free Application for Federal Student Aid. The FAFSA contains two sections. One relates to grants and scholarships, the other refers to loans.
Maximize the grants and scholarships first, and then look to other options. Don't forget that FAFSA reports only federal grant money. Your state, school, employer or other organizations may have scholarships available.
Do you qualify for the International Dairy-Deli-Bakery Scholarship? How about the Chick and Sophie Major Memorial Duck Calling Contest? What about U.S. Bowling?
Consider accepting federal work-study, if offered before you take your first loan.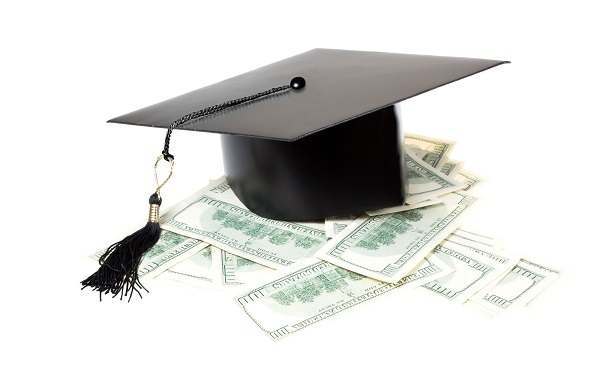 3. Know Your Expenses
When planning your finances, know what you'll have to spend!
Tuition and fees
Books
Cable/internet
Phone and utilities
Groceries
Transportation
Shopping and entertainment
Debt payments
You can reduce your overall tuition costs by taking college classes while in high school, transferring to a university from a community college, or taking online courses.
Consider living at home or in shared housing. Some schools have programs where students live with seniors or families with small children. You provide care and companionship in exchange for reduced living expenses.
If the combination of free grants, scholarships, work-study, and expense reduction still can't cover costs, then you can think about your first loan.
4. Choose Your First Loan
We can't stress this enough: all student loans are not created equal. Different loans come with different interest rates and repayment schedules. Not every lender is flexible. Research all your options before you sign anything.
Federal Loans
Federal loans offer borrowers many options unavailable elsewhere: loan deferment, loan forgiveness, and more flexible repayment options.
Interest rates on federal loans are fixed. Fixed-rate loans provide a measure of safety, as payments will remain the same each month unless you choose an income-driven repayment plan.
Federal loans come in three broad categories: subsidized, unsubsidized and PLUS.
Subsidized Loans
Are available only to undergraduates with demonstrated financial need. The interest on a subsidized loan is paid while you are in school and for a six month grace period after graduation.
Unsubsidized Loans
Are available to undergraduate and graduate students. Interest must be paid on these loans, even while attending school. Interest rates are low, however, they are subject to an aggregate loan limit.
PLUS Loans
Are loans made to parents of students unable to borrow on their own. The interest rates on PLUS loans are higher than that of loans made directly to students and there is an origination fee of 4.3%.
Private Loans
Private lenders tend to offer variable-rate loans with lower rates and more favorable terms, although some lenders do offer fixed-rate loans. However, remember that interest rates (and payment size) can change in the future.
Private loans don't generally provide borrower benefits like federal loans, such as deferment or forbearance. On the other hand, private loans may be customized to your individual circumstances and credit history.
Always consider the least costly subsidized federal loans first, then unsubsidized federal loans and PLUS. Private loans should be your last resort.
5. Check Out Interest Rates
Understand how interest rates will affect the total you will repay and the size of your monthly payment. Interest rates are an important factor in your choice to borrow, but not the only thing. Look at terms and other loan benefits, too.
6. Borrow Only What You Need
The temptation to borrow for a new computer, a bigger apartment or a car is there. But do you need it? You will be repaying the money, with interest, sometimes with interest payments beginning immediately.
Be careful with credit cards too. They come with even higher interest rates than your student loans and you'll have to pay that interest immediately!
7. Plan For the Future
Most student loan programs will offer a six-month post-graduation period for you before your loan payments begin. If you have kept track of your borrowing along the way, you should find this ample time to budget.
While you are a student, keep track of your future monthly payments and your future salary. While you may plan for some lean times, you can make sure that your "return on investment" for your borrowing isn't negative.
8. Be Informed About Disbursement
Your first disbursement (payment of funds) can't be made until 30 days after the first day of term. Plan ahead if you will need the money to pay rent, bills or deposits.
If you drop below half-time (6 - 8 units) during a term all future disbursements may be canceled.
9. Keep All Records
Your financial aid package will be complex and require multiple documents at different times. In addition, you will need to keep track of your Notice of Loan Guarantees.
They detail the interest rate, the type of loan, and total amount borrowed. Use them to keep track of your total monthly payment.
You also want to keep track of all loan repayment terms, deferment and forbearance provisions, and refinancing and consolidation options. From your first loan to your final financial aid package, keep your records!
10. Eyes on the Prize
The whole point of college is to earn that degree and improve your life. The more effort you make now, the better prepared you'll be in the future.
While you're in school, student loans can relieve the financial burden. But planning ahead can help lighten that burden when you graduate.
For more helpful tips on managing your money or consolidating your loans, read our blog today!
Also See: 5 Things About Bad Credit Loans