8 Home Based Jobs to Try If You're Unemployed
Being unemployed today doesn't necessarily mean you have to be broke. There are plenty of ways you can employ yourself and earn a decent living from the comfort of your home.
All it takes is a bit of research, dedications and sometimes a small investment. If you're currently dealing with unemployment and want to make some money to hold you over until you find work, then this guide is for you.
You can use the following tips to jump-start a full-time career or establish a temporary cushion.
Let's review some of the home based jobs you should consider doing today.
1. Become a Virtual Assistant
Maybe you already have skills in the secretarial field. If you previously worked a desk job where you had to answer phones, send out emails or schedule appointments, then this is ideal for you.
But even if you don't have any experience, this doesn't mean you can't learn. With the right tools, you can easily organize the life of some businessperson who needs it. What about loans for unemployed workers?
You need a quality website to advertise your skills and gain the trust of potential clients. You can get clients in many different industries as a virtual assistant.
2. Design Websites
Web design is in demand, especially with more and more businesses realizing the benefits it holds. You have plenty of startups requiring your skills.
And even if you don't already have in-depth coding knowledge, you can sign up for a cheap course on sites like Udemy. If you study full-time, you can complete an online web design course within months.
Plus, a lot of the web design tools you can use today make your job easier. Less coding is actually needed these days. However, you still need the knowledge to debug problems that may occur. You set your own rates, but be sure to make your rates competitive.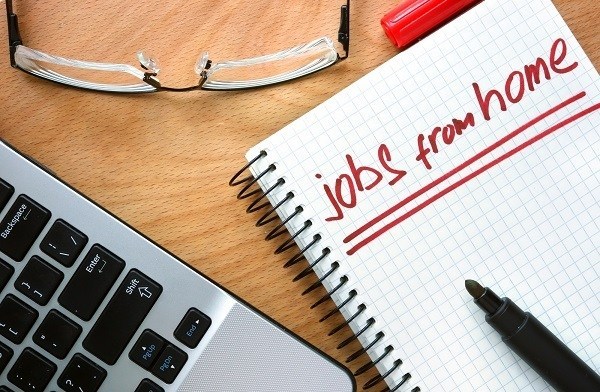 3. Write and Edit Articles
The internet has opened the door for all sorts of home based jobs. This is especially true for writers and editors. Everything on the web requires a writer and editor to create and prepare for public viewing.
This includes writing articles, blog posts, video scripts, ads and more. If you struggled with publishing books are getting hired to write for a newspaper or magazine, you'll find web writing is a whole lot easier to break into.
You can search for remote writing and editing positions online or even apply to sites that offer freelance work.
4. Manage Social Media Accounts
As we can see, the web provides plenty of home based jobs. And what really makes this exciting is the fact you can get paid to do what many of us do every day - socialize on social media.
A lot of businesses need social media to engage with users with the hopes of converting them into customers or subscribers. It takes consistent posting to achieve this.
Just get a feel for the company and see what type of posts their audience would like to see. If you're also a writer, you can offer blog writing services. This way, you can share the posts on social media to drive traffic to the business.
Cross-promoting services help to grow home based jobs.
As a social media manager, you can charge your own rates. This can range from $30k to $56k per year, give or take.
5. Offer Rides and Deliveries
Be a driver for an app service that helps you find clients to pick up and drop off, like Uber and Lyft. A lot of the younger generation don't call taxis, they request a ride from an app.
The beauty of this is that the transactions are all virtual. Your clients can pay you in cash or they can use PayPal or another online payment platform.
You can even be a delivery driver for UPS and Amazon. Online shopping is at an all-time high, so there's a high demand for delivery services.
6. Provide Virtual Tutoring
Are you good at math, reading, writing, history or another subject? Or maybe you have a bachelor's degree in one of these areas. Why not extend your knowledge to those who are struggling? You can do it all virtually using Skype or screen share tools to make things easier.
There are sites you can use to connect with students that need tutoring help. You can choose the grade level you want to assist, such as elementary, high school or college.
Sites like Tutor.com are worth looking into or you can apply at a local campus.
7. Take Some Pictures
Own a quality camera that can produce high-def photographs? Then you can sell them online on sites like istockphoto.com and shuttershock.com.
And if you're really good, you may be able to shop them around to art collectors. Another option is to offer your photography skills for photo shoots with models or weddings.
Make sure to showcase your skills in an online portfolio. There are plenty of free tools you can use to build one, but it's great to have your own domain name.
8. Become a Drop Shipper On Amazon or eBay
Selling goods online is good business. If you're not known for your skills, then maybe you can earn money by selling products others make.
The key is to find a market that's trending and dive right in. It's also good if you're able to spot trends before they blow up, so you can get in early and reap the most benefits.
What's great about online selling is you don't have to have any inventory to store. You can just have it drop shipped from a drop shipper directly to the customer.
Learn More About Home Based Jobs and Finance
You won't get far in life without a solid strategy for your finances. This is true whether we're talking about earning money, saving money or getting loans.
You can learn a lot about this at Wire Lend. We strive to educate our readers about various types of loans, money saving tips and more.